2nd-Gen RGB Dancing LED Whip Lights + Rock Light kit
✔  Our 2nd Generation whips are significantly thicker
✔ LASTS FOR YEARS WITHOUT NEEDING REPLACEMENT
✔ 100 TIMES MORE BRIGHT THAN TRADITIONAL WHIPS
Dancing, Turn Signal, Brake feature, music mode, and much more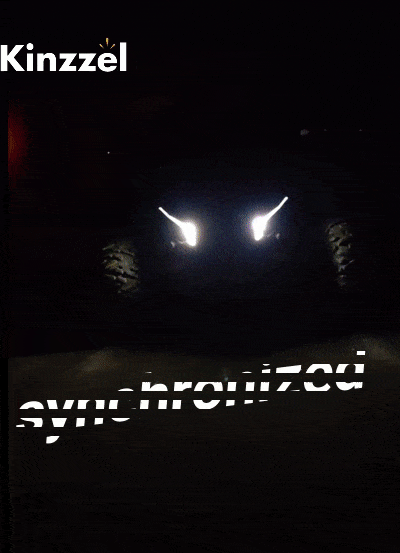 Kinzzel have done all the research on what buyer's like best about their lights kit, you will love this NEW Patent Pending Kinzzel Boom Light Kit because it has a more fashionable appearance and better performance than other RGB ones on the market.
Features
Bluetooth Control
Bluetooth APP Control & iOS/Android Compatible with Speed Control,Music mode & Strobing Function, it's convenience to you to control the whip & the Rock light. Making Your LED Whips Unique.
MULTI-COLOR:
300 changing/chasing colors,360° illumination as spiral by 372pcs RGB Cree LED chips.more than 300 patterns, 63 modes, 32 brightness levels, 10 flash speed patterns option to getting your own colorful by the wireless remote control, easier eye-catching even at high-speed driving.
BRAKE LIGHT + TURN SIGNAL 
- Function when wired to your brake lights or turn signals activates the lights in Red when braking and Amber when turn signaling 
INCREDIBLE 360 PLUS+ 
Perfectly tight packed array of RGB SMD LED for maximum light density, 50% more LED than others; Controlled through a Phone App or the included remote control
PERFECT SYNC
A single LED driver powers both whip lights and 4 rock lights to ensure patterns and color changes are done together; BONUS FEATURE Brake Light function and Turn Signal function when wired!
HEAVY DUTY  
Built-to-last meticulously built shockproof, waterproof and flexible; includes what you need including flag and clamps
Warranty
Kinzzel Guaranteed
Join more than 100 thousand delighted
customers sharing good vibes in
over 150 different countries!
Not fully vibing with your products?
No worries! We've got it covered.
Kinzzel | Support@kinzzel.com
30 DAY Money Back GUARANTEE
we know you're going to love the 2nd-Gen RGB Dancing LED Whip Light Kit and we fully stand by the products we recommend. That's why when you purchase your 2nd-Gen RGB Dancing LED Whip Light Kit today we offering a long 30-day, 100% money-back guarantee. It means if you're not 100% happy with your purchase just contact us and we will fully refund your purchase back to your account, no questions asked!